Wild and Wonderful Whites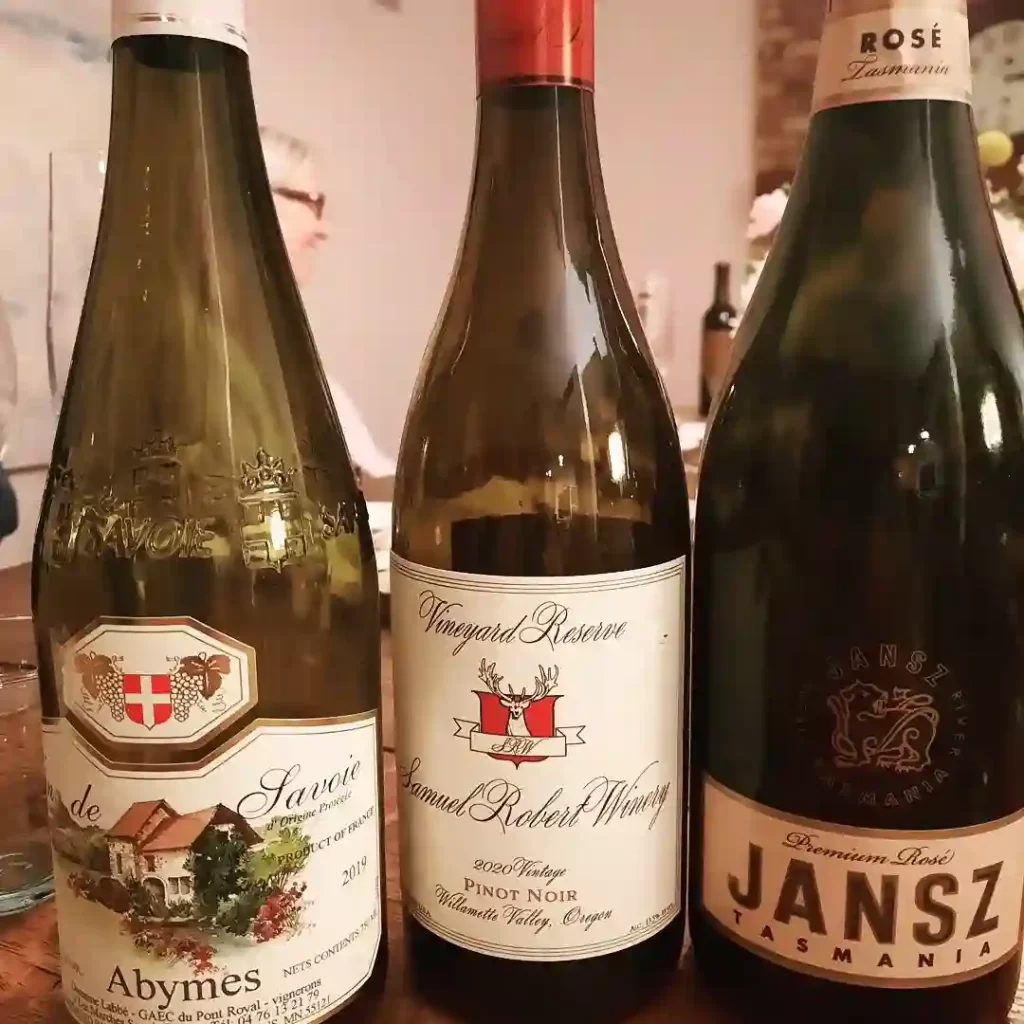 White wine is overshadowed by red wine. I hear "I only drink red wine" 90% more than I hear the opposite, and when people do profess a preference for whites they often seem almost embarrassed about it, even when its because of bad reactions to the tannin in reds. So, I was excited when a friend wanted to host tasting based on white wines, leaving the choice of grape and wine to me. Perfect timing as I'd been eyeing a sparkling wine from Tasmania and wanted to revisit an old favorite from Abymes, France.
Setting up an event like this I do my best to match my selections as much as possible to the guests' level of wine knowledge and interest. Wine is an enormous subject and can be overwhelming to a casual wine drinker. Having taught many wine classes and participated in countless tasting events, I've come to be pretty good in sculpting a party that is fun but still provides enough challenge and real education for the attendees.
This group of ladies definitely love wine and are fairly knowledgeable, so I decided to share the previously mentioned wines, then do a comparison tasting of a California and a French Chardonnay, and finally a blind tasting of a well- known grape that many people have great misconceptions of.
We started the evening with the Jansz sparkling rose from Tasmania and this created an impromptu wine glass education. I mentioned that it is now often recommended to use a standard wine glass to enjoy Champagne and sparkling wines as that provides more surface area to appreciate the bouquet and allow the wine to open, but that it was a different experience than using other types of sparkling wine glasses. The hostess happily pulled out Champagne flutes to compare the two glass styles with the wine. It was agreed that there was a lot more aroma and it was easier to pick out the various flavors in the standard glass, but many of us appreciated that the flutes were much more conducive to the lovely, tiny bubbles that rapidly travelled up the tall sides of the flutes.
I was excited about this wine because I haven't spent much time with Tasmanian wine in my studies. Being geographically challenged, I had research the country and found that its a state of Australia. Its cooler here than other parts of the country making it a good place to grow Pinot Noir and Chardonnay-the very grapes on which most sparkling wines are based. The Jansz was a very pale, peachy pink. The bubbles were tiny, tight, and energetic in the flute, but faded fairly quickly in the traditional wine glass. The wine was made in the traditional Champagne, with the secondary fermentation in the bottle and between 18 months and 2 years of ageing on lees. We detected notes of strawberry, some floral components, subtle herbaceous qualities, with a hint of citrus pith along with a luxurious texture. This wine went beautifully with a cheese and tapenade tray.
The next wine was Domaine Labbe, Vin de Savoie. This wine comes from, and is named after the city of Abymes in the mountainous Savoie region of eastern France. This region makes only 0.5% of the wine in France and 70% of it is white. The main grape is Jacquere, and a wine labeled Savoie, Abymes must be at least 80 percent that grape. Chardonnay, Altesse, and Aligote' may be used secondary grapes. The name Abymes comes from a landslide in 1248, killing 5,000 people, and translates roughly as 'ruin' or 'abysse'.
Though the wine had a good amount of fruit, mostly tart apple with a touch of citrus pith, the minerality is what stood out for me. And though there is no oak ageing, the wine had a nice weight to it making it a perfect pairing with the rich butternut squash risotto the hostess prepared, though I can see it being fabulous with roasted chicken, or Asian dishes.
The tasting concluded with comparing a simple white Burgundy with a California Chardonnay from Chappellet, and a blind tasting of a Washington Riesling to illustrate that, that contrary to a common belief, Riesling is often dry!
After the whites were tasted and discussed, the hostess eased us into red wine with a bottle of Samuel Robert Pinot Noir.
A good time, I hope, was had by all.
C'est le vin!