WHAT TO DRINK ON ST PADDY'S DAY?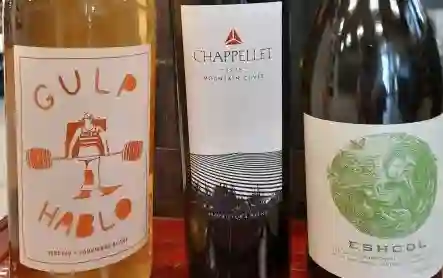 As far as my family lore goes, I haven't even a drop of Irish in me. A commercial DNA test begs to differ, and the way my alleged forefathers, the Danes, got around, it's not farfetched to think there's a bit of leprechaun in me.
Irish or not, I welcome a reason to celebrate the holiday with an appropriate libation. Beer, often colored green, is the common drink as is Irish whiskey. But I choose to be a bit more escoteric and drink a 'green' wine.
(Pictured, 3 amazing green wines…Gulp Hablo from Spain.50% Verdejo 50% Sauvignon Blanc, Biodynamic. Chappellet Mt Cuvee Bordeaux-style blend from California, sustainable and organic. Eshcol Chardonnay from Trefethen.)
This doesn't mean that the wine is that color, (though a few wines may have a slight greenish tinge). And it doesn't mean wines from Vinho Verde, a region of Portugal that makes wine from the utterly delightful Alvarinho grape, (though 'verde' does mean 'green', in this context it means 'young' or references the lush, green area it comes from. And, since my criteria is so loose, I'd consider this an appropriate substitute for a St. Patrick's Day drink. Vinho Verde can also be a red wine…
(I must remind myself …DON'T CLIMB THE VINE)
In other words, stay on the subject and not follow the twisting sub-topics that always seem to pop up. Vinho Verde is fascinating but…
BACK ON TOPIC – What IS a 'green' wine?
It's a wine that is organic, sustainable, or biodynamic. A brief explanation:
ORGANIC WINE– A wine that is certified organic by the USDA, or in Europe (UE). The bottles are marked by a green leaf. It means the grapes were grown and the wines made following specific, organic, criteria, including no synthetic materials. This is a certification, and the winery has to be inspected regularly to be sure they are still compliant with the rules.
CLIMBING THE VINE (but within the topic…)
It costs money to get an organic certification. A vineyard may be following all the USDA or UE rules and choose not to go through the certification-one reason being this will cause the bottle price to rise. This is common in Europe because organic farming is much more prevalent. TIP: In a pinch at a restaurant or wine shop, if you're looking for an organic wine, in general, wines from Europe or South Africa are more likely to follow these farming and vinting practices.
SUSTAINABLE – These vineyards follow farming and wine-making processes that must be environmentally sound, socially equitable, and economically feasible. Less stringent rules and there is no certification ensuring the winery is compliant with the practices, although there is the California Wine Growing Alliance that will certify a vineyard.
(I'm not climbing this vine. These criteria, though good spirited and well-meaning, seem too vague to go into now.)
BIODYNAMIC – A toast to the earth, stars, and sky! This type of farming and winemaking is based on the philosophies of Rudolf Steiner from the 1920's and predates the organic movement. It's a huge subject- kind of sustainable/organic wines on steroids. In general, it's treating the vineyard, winemaking, and all processes and elements as a whole, returning nutrients to the soil rather than stripping them, avoidance of all synthetic fertilizer, herbicides, or pesticides, relying instead on natural fertilization from animals, and biodiverse plants and birds to combat insects. Sulfites and sugar are never added. There is biodynamic certification, the bottle may say made with biodynamic grapes or have the Demeter symbol that verifies that third party that biodynamic growing and winemaking practices have been used. 10% of a vineyards land must be left untouched to encourage natural plants, bugs, and animals and protect these ecosystems.
Biodynamic also respects the lunar calendar, which designates specific times for planting, pruning, and harvesting to respect the natural energy- or waning of- provided by the moon and planet cycles. Who couldn't love that!
A BIT OF A VINE CLIMB HERE, BUT IT IS ST PATRICK'S DAY…
Ireland is not associated with wine. The wet, chilly, weather is usually blamed for making the growing of wine grapes difficult. However, there is evidence of Celtic monks cultivating vines from the 5th century and winemaking may go back even further.
HOWEVER…
There are a few wine producers in the County Cork area growing grapes Rondo and Solaris, (technical Grape Vine here…these are considered the European species Vitis Vinifera, the species of the grapes like Cabernet or Pinot Grigio we are familiar with, but it has some cross breeding with Vitis Amurensis), and Bacchus -also grown in England and Minnesota.)
Ireland is known for Mead, a wine made by fermenting honey and water. Herbs, spices, berries, and grains may be added. Mead is also common in England. I'm not very familiar with Mead,and was surprised to find it is "It may be still, carbonated, or naturally sparkling; dry, semi-sweet, or sweet." (Thanks, Wikipedia). Sparkling Mead? Where do I find that?
And it turns out Mead is a MUCH more complicated subject than I expected, so I'll have to leave a more detailed post on Mead for the future, except for this bit of climbing the vine: As far back as the 5th century, after a wedding a couple was given mead to continue toasting for one cycle of the moon and monikered 'honeymoon', to capitalize on the alleged fertility and aphrodisiac qualities of the drink.
Pretty sweet!