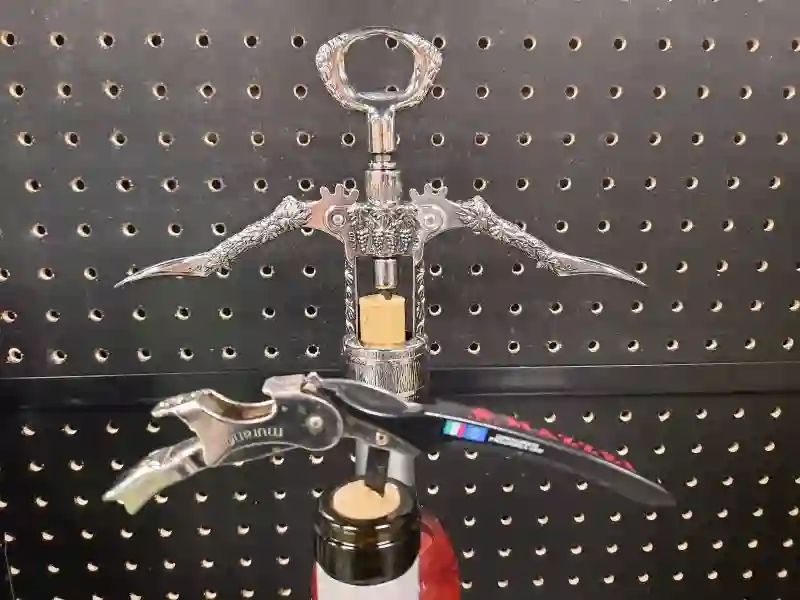 COLLECTING AND CORKSCREWS
I've always liked antiques. As my mother had little use for anything old, it probably started with being around grandmother's things. I loved her dainty teacups, the lamp with a ceramic base of a standing Napoleon (that was once broken and laboriously glued back together by my uncle and still sports some 60-year-old tape), the green Depression glass divided dinner plates (pattern Dancing Girl that are now my 'good' dishes). I spent hours with the rows of cloth covered books that had come with the cabin (aptly named Fairy Glenn) my grandparents owned dating from the late 1800s to the 1930's (a lifelong bookworm, I still have a love for novels of that era). At my sister's, I visit the Bradley and Hubbard kerosene lamp with the large crimson globe, decorated with a gold dragon that sat in my grandmother's window for decades celebrating her love of the color red, with the curious provenance of being found, wrapped in burlap, in one of the outbuildings at this cabin. Even now my taste gravitates to the old particularly in jewelry, furniture, and fashion. In my 20's I dressed like it was the 1920's, sporting drop-waisted dresses like I was going to a Great Gatsby party.
TO COLLECT OR NOT TO COLLECT
Much as I appreciate items of yore, I'm doing my best to avoid being a collector of anything. I just don't have the room for displaying and I want to have select items that I love and use. Still, I have collected a shelf of antique, decorative plates. Two have historical sigficance for me as they were giveaways from my grandfather's mercantile store (giving dishes away used to be a thing) that are over a hundred years old. These were joined by some pretty hand-painted plates with fruit still lifes or cocktail themes that I just couldn't leave in a thrift store, and a shelf of old books (most inherited from that cabin), and I have to restrain myself from adding to these.
And now wine items are trying to seduce me.
THE THRILL OF THE FIND
I love antique and thrift stores and regularly find sets of aged glasses I sigh to own. (I already own one set that I inherited from an aunt whose life was tragically cut short at the age of twenty-four, that I'm afraid to use because, being hers, they are irreplaceable.) It seems so sad to leave the elegant coupe' glasses waiting for a splash of Champagne, or the beautifully etched goblets that would elevate any dinner party, to sit, forlorn and unused on some random scratched metal shelf. I remind myself of my lack of storage space and manage, to quote a Dionne Warwick song, to "walk on by".
Still, here and there, I run into an item that I just can't leave in the loneliness of the store. Usually stray, single wineglasses (a post on that will be coming). But what got me this time was the pictured corkscrew.
UTILITARIAN AND ORNAMENTAL
This is a heavy, duty tool weighing over a pound and is almost eight inches tall. It would be a great weapon- perhaps useful to threaten someone if they're eyeing more than their share of that treasured Bordeaux you've been holding for twenty years.
This style of corkscrew is a commonly found, very easy to use tool called a 'wing' corkscrew. Thin arms raise up as the 'worm' (the long swirly thing with a sharp point) is twisted into the cork. Once the arms are all the way up, they are gently pushed back down raising the cork out of the bottle.
Every surface of this piece is decorated with vines or grape clusters and the center ring (that fits over the neck of the bottle) is molded as a wine barrel. My research reveals that it's a Ghidini Italy Botticello Steel Wing Corkscrew I love it's over-the-top ornate decoration, that is bordering on gaudiness and how heavy and official it feels. How could I leave it in a tray of old forks, dull knives and mystery kitchen utensils?
EXCITING PROVENANCE?
Of course, I hoped this was some very old corkscrew maybe owned by Oscar Wilde or Dorothy Parker (although I'm fairly certain wine wasn't her tipple). Sadly, for this fantasy, my research showed these are still for sale new, on Amazon, no less. I found one review that said they had purchased one thirty years ago, but I have no way of knowing if mine is that old. The price range is from around $10-$35, but as I bought it for a buck, I came out ahead.
Though it adds some elegant kitsch to my assortment of wine tools and accessories, this is not a great style of corkscrew. Yes, it is very easy to use, and others of this style tend to be inexpensive, but the worm is short, often too short to get deep enough into the cork to effectively pull it out. (Why they don't just make the worm longer, I'll never understand), This one should be able to take quite a bit of use, but I've broken more than one of its cheaper brothers. It takes up a bit of storage space and is not at all convenient to tuck into a purse or a pocket.
So, though I may use this as a conversation piece when teaching classes or pouring demos or find a way to display it, I will be sticking to the plain, but reliable waiter's corkscrew. It takes a little instruction on its use, but they are inexpensive, usually sturdy, reliable workhorses, AND small enough to take anywhere and keep several on hand. A good thing for me since mine seem to migrate on their own to other parts of the house, car, handbags… And they give me no desire at all to collect them except for utilitarian purposes.
TEMPTED…
Although, a kind wine seller in Lucca, Italy, gave me one (pictured above) with the first magical bottle of Chianti I purchased in its Sangiovese's native home. Wouldn't that make a meaningful start to a new collection…?